Our Services
Enjoy your pool without the debris and with fewer chemicals. A screened pool enclosure will help keep leaves and wildlife out of your pool, and when you don't have leaves rotting in your pool, you'll need fewer chemicals.  A screened in pool enclosure also is a beautiful addition to your home. Open the doors and extend your space out into the pool area. Parties and families will love the extra space without having to worry about mosquitos! Make it your own with custom design and furnish it to your heart's delight. All our work comes with a five-year warranty!
---
Screen Room Installs
We offer the customer a full service option for their screen rooms. We custom design each room for their home with entertaining, family size, and property size in mind. We complete everything from pouring the concrete to the repair work years later. We offer both insulated and non insulated screen rooms. They take 1-2 days to install and offer customers a covered area to sit during the heat of the day or the cool of the night. The insulated screen room stays cooler during the hot hours, and is quieter during the rain. However the non insulated screen room is a bit more cost efficient in large sizes. The customer has many options to choose from, such as the color, size of bottom metal trim, door orientation, door placement, etc. Each room is specifically designed for our customer, with no extra charge!
---
Screen Inserts/ Entryways
This is the option for those who already have a roof but need screen to keep out the bugs. We can install the frame and screen around any shape of opening, or column type. We have done archways, notched posts, brick, you name it! No matter the intricacy of your project all prices are simply based upon the square footage. That means you can get the custom job you desire without paying the custom prices of our competitors! You still get all the same options, color, door placement, etc. You just get to save a little because you don't have to install the roof! Once we are finished it will look like your screen inserts or entryway was built with the home, we guarantee it.
---
Pool Enclosure Gutter
Many customers come to us needing some type of modification to their existing pool enclosure gutter. There's three scenarios in which this is necessary:
Is your gutter leaking? Many pool enclosure companies forego quality for quantity. That means they are trying to get as many enclosures put up as fast as they can, and don't pay attention to the fine details. When it comes to gutter if the gutter splices are not done correctly or the pitch is not enough we can have major problems in the future. For the enclosure company this is not a problem because they do not warranty their work. That's where we come in. We can detach your existing enclosure and fix the pitch, replace the gutter, or (in the perfect world) simply repair the leaks without any major modification. Whatever the case our work comes with a warranty!
Is your gutter is too small? Just as in the last situation we have companies installing the smallest size of gutter possible to save them money. They do not mind the customer, down the road, having issues with the water billowing over the sides. That's where we come in. We can detach your pool enclosure and replace your existing gutter with larger gutter! Many companies cannot, or refuse to do this. That's because it's a specialty. For someone who has not done this before it looks like a daunting job. At CFL Screens we have done hundreds of these jobs. It is a basic install for us and we can warranty our work for years to come!
Are you getting a new roof? It would be a shame to get a brand new roof and drip edge around the entire house and forego the area around the enclosure simply because the roofing company cannot remove the gutter. That's were we help! We can come in and detach your existing enclosure and remove the gutter so that the new drip edge can go up against the house. This is the time when most customers opt for a larger gutter, or new gutter to fix their old problems with leaking splices, or overflowing gutters. We work around the roofing company to allot for a smooth installation process, and giving you the best product once it's all completed.
---
Screen Repair
This is where we excel far above the rest. We come in and replace all of the screen in an enclosure in one day. That means there's no amount of time when your enclosure is left open over night for critters to make a new home, or worse, a child to wander in and get hurt. Not only are we quick, affordable, and professional, but we warranty all of our repairs! That means you don't have to worry about the storms and poor installation. Our warranty is here to offer you peace of mind, well after the installation is complete.
---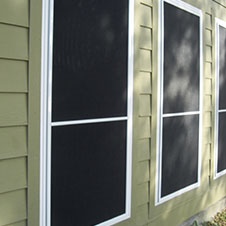 Window Screens
Are your window screens silver and holy, not in a good way. Well we can fix that! We can custom build each of your window screens according to your specific window to assure a perfect fit! It's quick and easy. Call for a free estimate, we come to you to measure your windows, and two days later you get window screens delivered! Don't hassle with the other guys who want you to drop off your window screens or pay a deposit upon pickup. We take care of the process for you and require nothing until the window screens are installed.
---