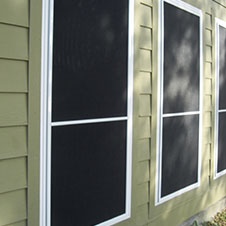 While we spend a lot of time talking about how to keep bugs out of your outdoor, and even indoor, living spaces. It's often forgotten how much your window screens factor into your energy efficiency and utility bills. Making sure your window and patio screens are in good repair, is a great step towards improving your home's energy efficiencies. Here's how.
Dark Colors Absorb Heat
There are two possible directions to change the temperature in your house. You may want your home to be cooler, or to be warmer. You may not think that your window screens contribute to the heating of your house, but they do! Any item on your home that is a darker color will absorb heat. Think about how hot your roof can get in the summer. The same can go for your window screens. During the winter, as long as your windows are properly sealed, your window screens can help provide a net warming effect which allows your furnace to not have to work as hard.
Fresh Air Flow
In a previous post, we discussed how spring and fall are some of the best times to be able to open up the windows. But you would never want to open them up if your window screens are in disrepair, or you don't have any screens to begin with. Using the fresh air to cool your home when the temperature allows for it. That way, you can turn off your air conditioning unit for at least a few hours and give it a much needed break.
If you're looking for ways to lower your utility bill and improve your energy efficiencies, look no further than Central Florida Screens. We'll make sure your window screens are repaired and ready to help you live a greener life.