Florida weather can be tough, whether you are on either coast or smack dab in the middle of the state. But it can also be a blessing throughout the year, with many Orlando and Daytona families being able to soak up the sun in their pools and backyards. But aside from the odd severe storm, there are other elements that inhibit us from being able to enjoy the outdoors from our porch or pool year-round. Among them are little critters from outside who wander where they don't belong, leaves that do the same, and worst yet, mosquitoes and palmetto's bugs which can bring along diseases. Not to sound like an alarmist, but it's just a reality of living in Florida.
That's why many homeowners are turning to Central Florida Screens to solve this problem. After all, if you have a pool or a patio and live in this beautiful state, you ought to be able to use it to its full extent. Being able to enjoy the outdoors without worrying about mosquitoes, wildlife, or just too many dead leaves makes Central Florida Screens a great option for people looking for pool and patio screen enclosures.
Today's post is going to depart from the regular vein of topics that have to do with practical tips to help diagnose and solve your issue, in favor of highlighting a few of our favorite reviews that our customers have been kind enough to leave for us. We value positive reviews a great deal, like any business should, namely because people are much more likely to leave negative reviews. That stands to reason, because someone is a lot more likely to let a business and others know about it if they haven't received a service they've paid for. On the flip side, when someone goes out of their way to say, "I paid for my screen repair service in Orlando and it was exceptional", for instance, it is indicative that the screen repair company (hint, it's us) has gone above and beyond what the reviewer had in mind.
For that reason, we wanted to shed light on what customers have experienced when working with us at Central Florida Screens, and how you might one day be in the same boat. Read on if you are interested in such things!
"Replaced existing screened-in patio. Installed kick plate on lower panels and screening on top panels. Did an excellent job. Was prompt, courteous, and reasonably priced. Replaced screen door screens, hinges, closing mechanism, handle, as remainder of door was in good condition." – Angie's List
Thank you, mystery Angie's List reviewer for taking the time to let us know how working with us went. When we hear characteristics like "prompt, courteous, and reasonably priced", it just makes us beam a bit with pride. That is the exact culture we strive to create at Central Florida Screens, no matter if it's an patio screen replacement or just a simple window screen repair. We take every job seriously and want our customers to be proud of the way their enclosure looks after we've touched it.
"How Many Other Installers Would Do That?"
"The whole crew was great. David gave a great bid, The installers were professional and friendly. We had scheduled a few days earlier, but rain cancelled the install (can't use electric saws in the rain!). During the install, the guys noticed that some of the supports were scratched. Rather than just put them in and hope I didn't see, they actually stopped working, and drove back to their supplier, and obtained new materials. This caused them to take longer than expected for the install, but it shows that they care about quality. How many other installers would do that? The fact that the offer a 5 year warranty just caps it off. My wife is thrilled with the results." – Randy, Five Stars
If the last one made us beam a little, this one makes absolutely glow. We will never claim to be perfect, but we will do our best to do right by our customers whatever way we can. In this case, we were able to put that commitment in action with going back and doing the job right. Randy, thanks for letting us, and our prospective customers know about how we do business. And while other companies might try to make things right if the flaw was pointed out to them, our staff has the integrity to handle it irrespective of Randy noticing.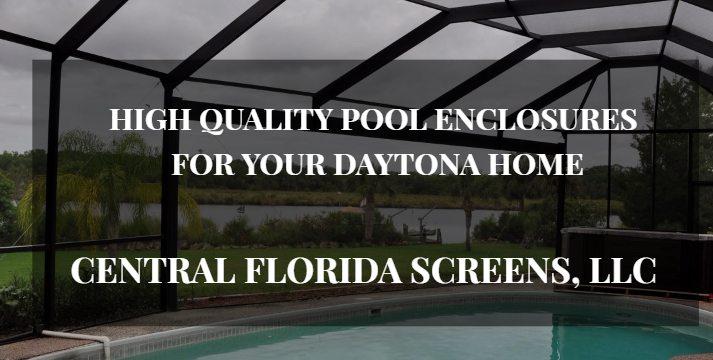 Re: Screen Pool Enclosure
"Made all arrangements over email and phone. Responded timely, did job when requested. Look awesome!" – Angie's List
Whether you need a screen pool enclosure install, or are looking for some type of modification, we have got you covered. We will work with you to formulate a custom plan with a reasonable price. And when we come to your home or property, you should know that we make a point to be as punctual and respectful of your time and space as we can. We also offer a five year warranty on all work performed, which is just another way we do our best to show you we stand by our work.
"Very professional. Great quality." – Katherine, Five Stars
Sometimes, there isn't a huge drama or life-changing experience when it comes to screen room installs and the like. It can just be professional and straightforward. You call us, we give you a free quote, we come out in a few days and get the work done in a timely fashion. You are satisfied with the work but still have a five year warranty for peace of mind, and you leave us a glowing review on Top Rated Local®! That's a win-win if we've ever heard one.
Go With The Screen Installation Experts
Whether you live around Orlando, Daytona, or nearby, we want you to consider going with CFL Screens so you can experience what others have described above. We are a family and veteran owned and operated screen enclosures business that has been a part of this community for over 40 years. Those Christian family values pervade our entire staff from the top down, which is part of the reason that we are known for our professionalism, courtesy, and excellence.
We take pride in our work, whether it's a screen porch, patio screen enclosure, pool screen enclosure, or even a 3 season room. We've seen it all, and can adapt to your specific vision. If you are ready to take the next step and get your free quote, we would love to hear from you and see if we can help you out in an affordable way.